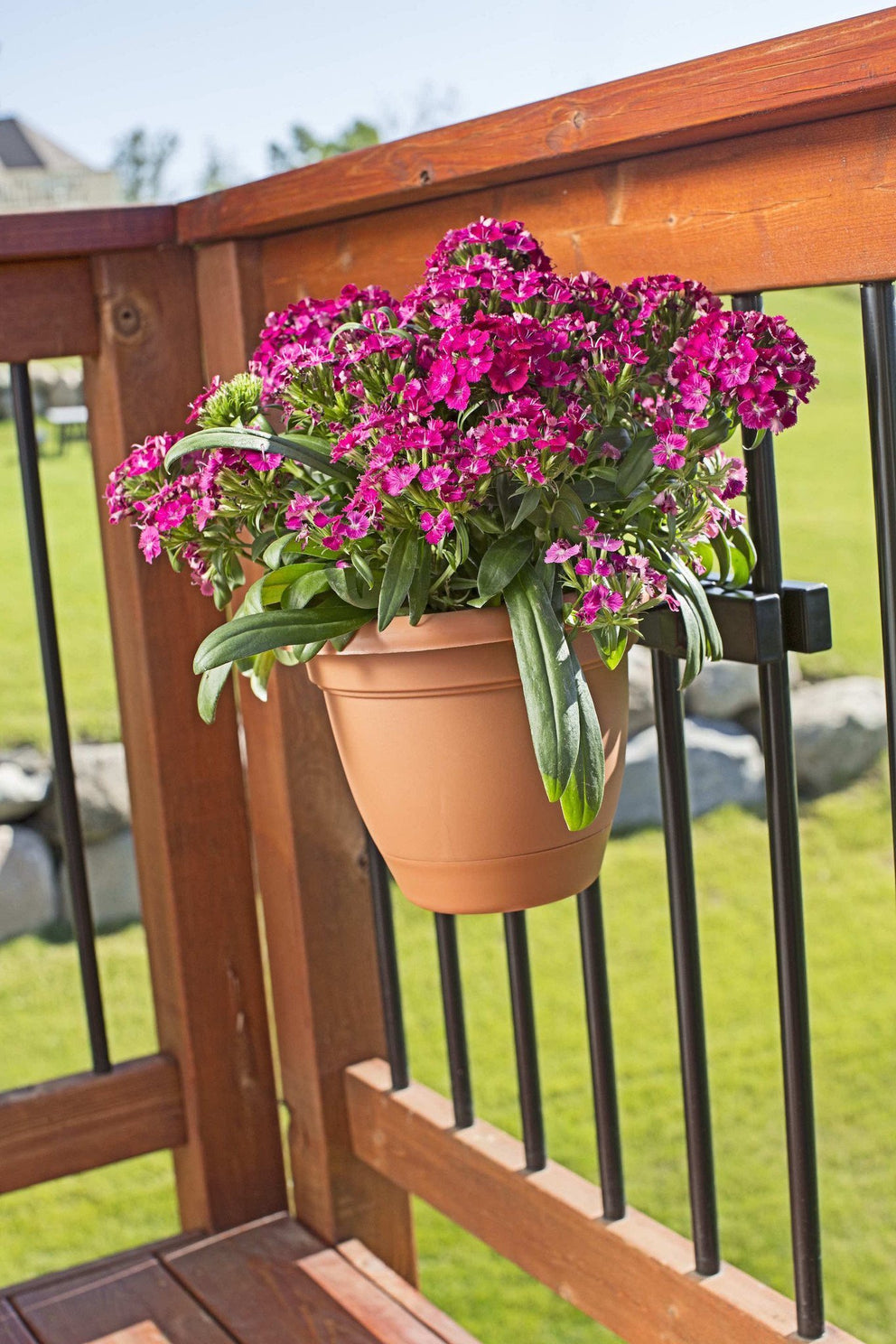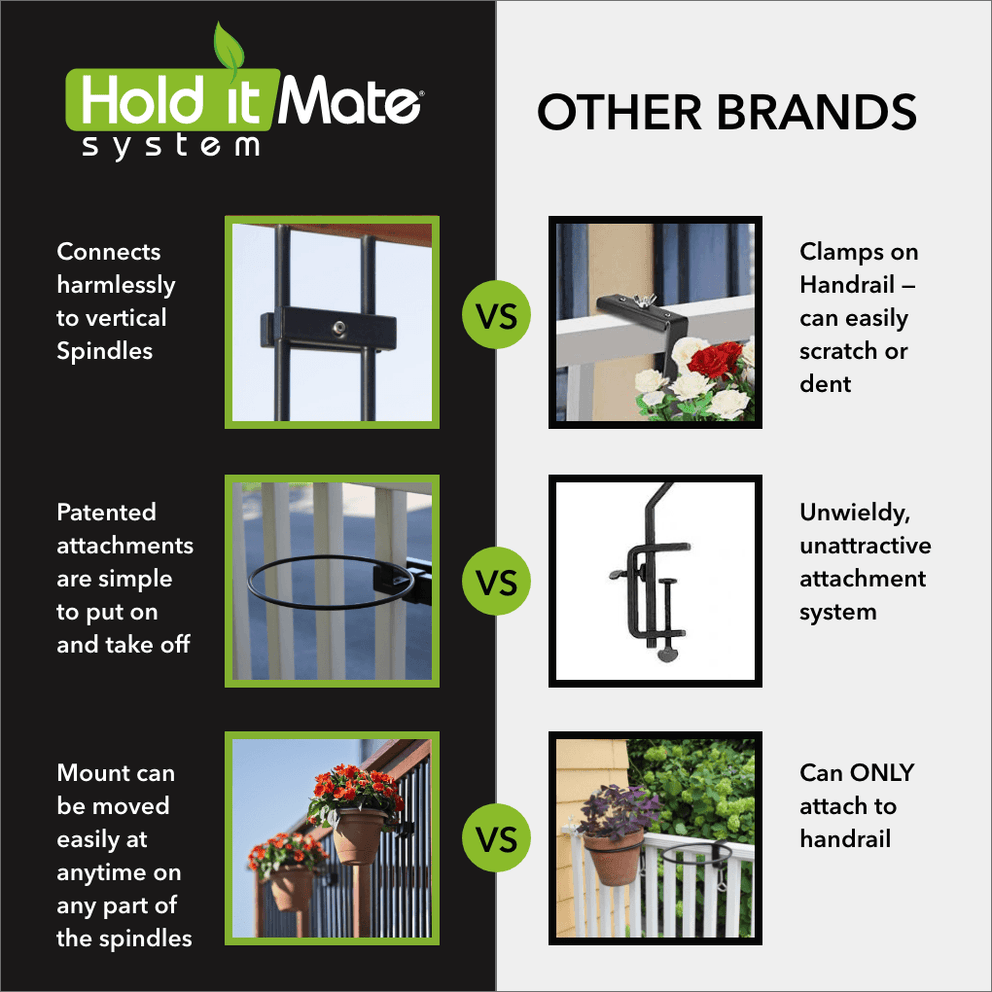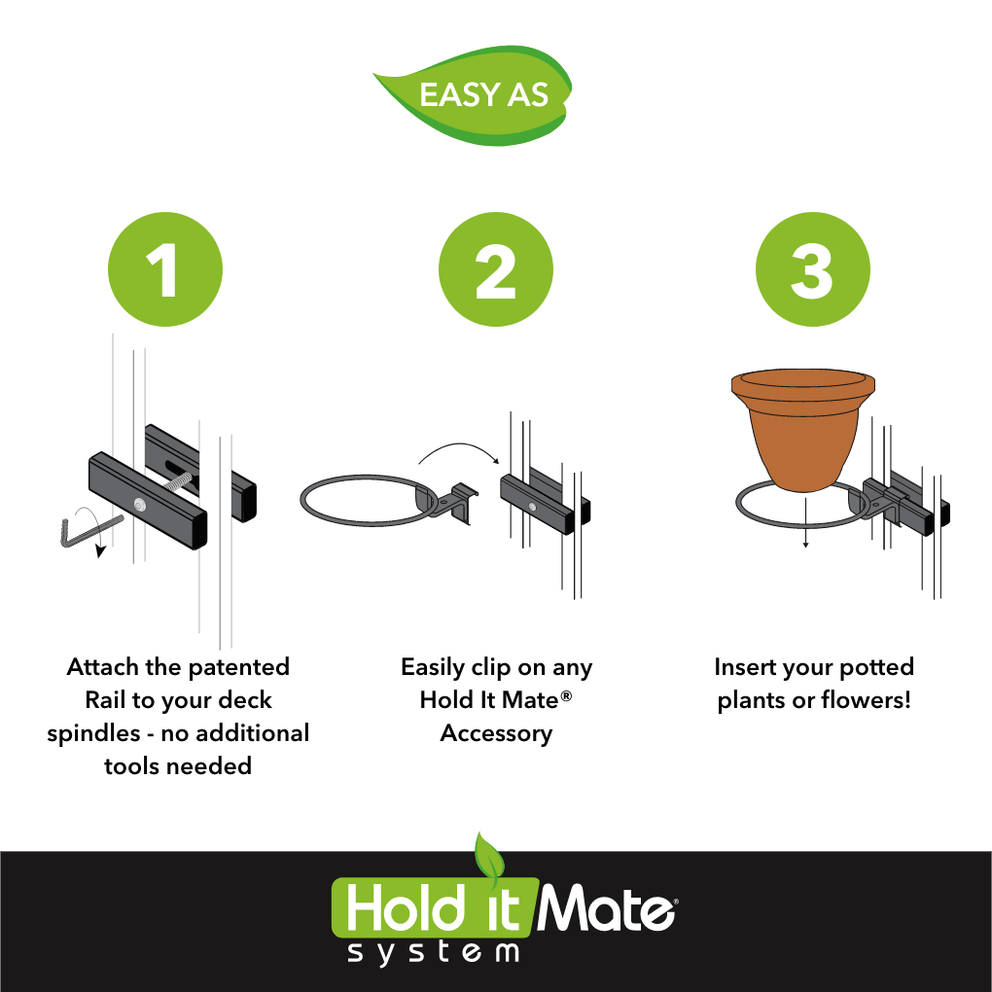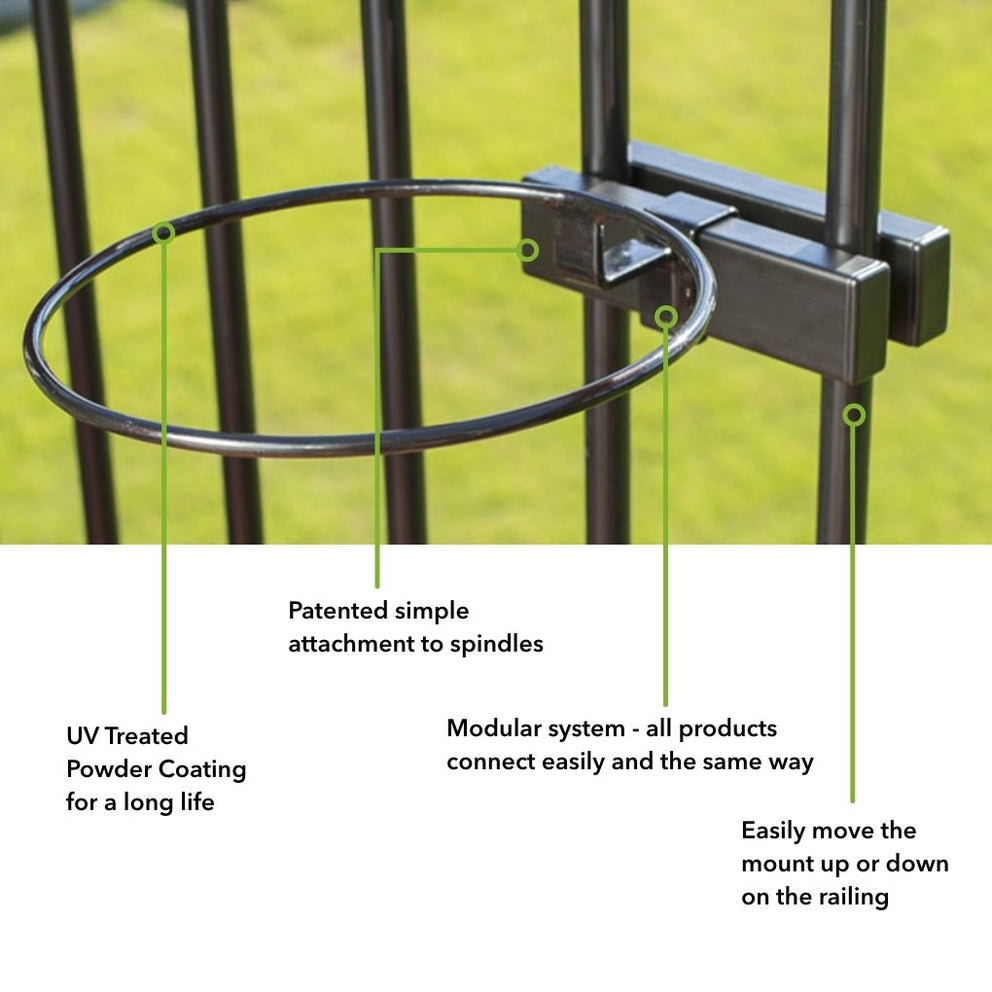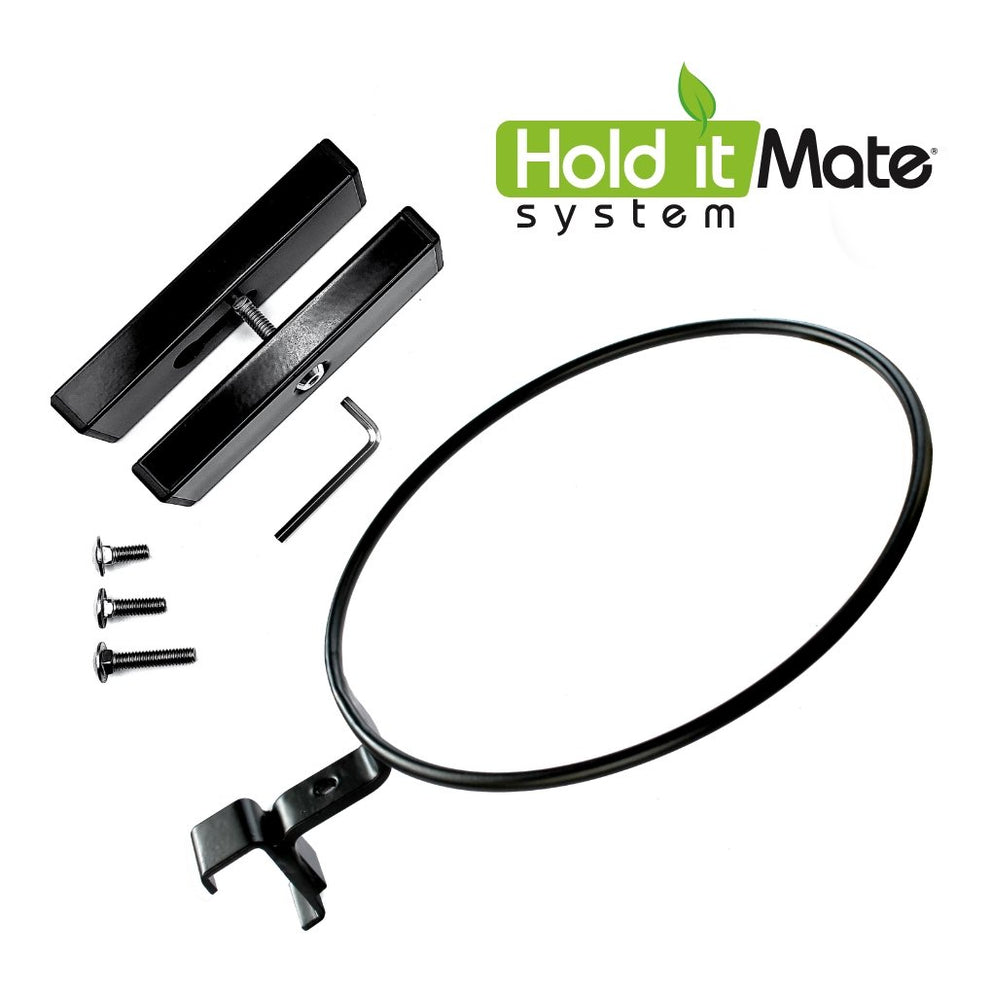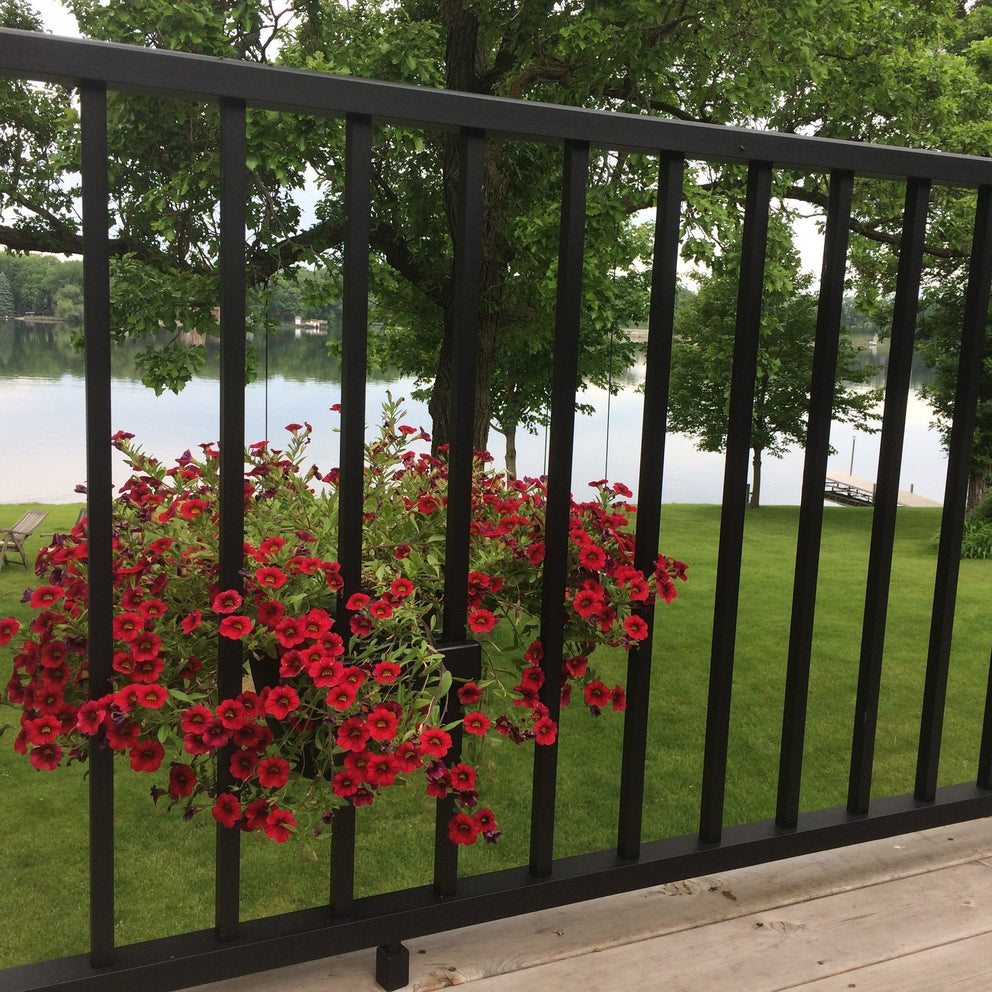 Hold It Mate
Container Ring Kit with Mounting Rail
$ 26.99
  Hold It Mate - Reconnect with your Deck! This is a Bundle of One (1) 6" Hold It Mate Rail & One (1) 6" (007063), (1) 8" (00740) or (1) 10" (00715) Planter Ring.  Does not include a pot, you may use your own or bring the ring to your favorite garden center and find a perfect fit - we guarantee you will find a 8" - 10" pot that fits.   Fits VERTICAL railing spindles that are built to code...which allows a 4" open space between the spindles.  Connects to a wide variety of spindles with our included hardware kits - no further tools needed.  From 1/2" to 1 3/4" spindle widths.  Wrought Iron is usually 1/2", Aluminum typically 3/4", PVC/Vinyl and Trex style are typically 1" -1 1/4" and finally wood can be 1 1/4" to 1 3/4"  - Simply use the bolt that is just a little longer than the thickness of the spindle...easy to find out which bolt to use by holding the bolts up against your spindles. Send us a message if you need further assistance!  Measure the thickness of your spindles as well as the open space between them before you order.   Hold It Mate Rails and accessories are made of powder coated steel and stainless steel hardware for a very long life.   The only tool you need is an Allen wrench, and that is included - see below for simple installation instructions. Hold It Mate is Patented
Hold It Mate
20" Rail Kit and (2) Planter Rings
from

$ 29.99
Included is our 20" Mounting Rail & either (2) 8" Container Rings, or (2) 10" Planter Rings.  Ideal for herb gardening on your balcony or simply to grow lovely flowers - maybe block a view?  Fits nicely in small spaces! The 8" & 10" ring kits will fit standard rolled edged 8" planters - from brands like Bloem Living.  The planters are not included in purchase - just the hardware to connect to your deck railing.  Fits VERTICAL railing spindles that are built to code...which allows a 4" open space between the spindles.  Connects to a wide variety of spindles with our included hardware kits - no further tools needed.  From 1/2" to 1 3/4" spindle widths.  Wrought Iron is usually 1/2", Aluminum typically 3/4", PVC/Vinyl and Trex style are typically 1" -1 1/4" and finally wood can be 1 1/4" to 1 3/4"  - Simply use the bolt that is just a little longer than the thickness of the spindle...easy to find out which bolt to use by holding the bolts up against your spindles. Send us a message if you need further assistance! 
Hold It Mate
Container Garden Kit with 36" Mounting Rail
$ 54.99
$ 56.96
Hold It Mate - Reconnect with your deck!  This 36" Rail System comes complete with 3 - 10" planter rings for you to use your own pots.  The rings are 9 1/2" ID (Inner Dimension)  Hold It Mate Rails and accessories are made of powder coated steel and stainless steel hardware for a very long life. Comes with stainless steel hardware for a long life. Fits round, square, aluminum, wood, PVC, wrought iron, recycled vertical spindles that are no further than 5" apart and are a 1/2" to 1 3/4" thick.  Code for the gap between spindles in the US is typically less than 4" - to which our systems were designed. Measure before you order.   Hold It Mate is Patented.